intensiKey LLC Click Start the first 3D virtual post-production game in 2012 NAB Show
Style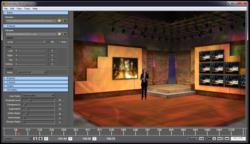 Las Vegas, NV (PRWEB) July 4, 2012
first 3D virtual world entirely in post-production intensiKey whole system should start at the NAB Show 2012 in Las Vegas in April this year. intensiKey by Eric Pratt, the businessman who led the industry Virtualsetworks, the leading provider of virtual studios with an extensive library of pre-existing and custom designed virtual sets.
intensiKey
developed to meet user demand for better functionality to integrate green screen talent in a virtual set during post-production, said Eric Pratt, CEO and intensiKey Virtualsetworks. In very excited to bring this ability to change the game for my clients, and even allow a user access through these high quality and easy to use virtual game system.
intensiKey
users may be able to move your recordings chroma key in a true 3D virtual game, with an integrated camera. The product is currently in beta, and Mr. Pratt demonstrates the new public version of the NAB Show 2012 next month.
On 19 April 2012, customers can purchase the official version intensiKey http://www.intensiKey.com.
About
intensiKey

intensiKey is the first fully 3D world virtual game system in post-production. intensiKey improved usability features that enhance the functionality and integration of realistic talents in a simple, easy to use format. IntensiKey with, for the first time users can Chroma Key your shots in a true 3D virtual game with integrated camera movement in post-production. intensiKey enters a workflow existing user to true virtual 3D animation of green screen shots to create, without the cost, complexity and cost of complex programs of 2D and 3D. For more information, visit http://www.intensiKey.com.
clear = "all"